Quick Examples
This page contains links and brief descriptions to quick CC3D demos that show off answers to user requests and questions.
For a more complete list of models and demos see the Models page, which include much more complex models as well as models for nanoHUB.
---
Track the location of a cell with a tail
Want to keep track of where a cell has been? You can use a user created "field" to track the center of mass (COM) of a cell pretty easily. Or, you could create a plot. Here we show both; Left is the cell field showing 4 cells, center is a scientific plot tracking the COM of each cell, right is the track displayed as a field. In the field display, the value assigned to each tracking pixel is the MCS, so the first location gets colored blue and the most recent red in the heat maps.

Here is the zip file of the CC3D project.
Don't forget to open a new window in Player and tell that window to display "cell_track" instead of the default "Cell_Field".
---
Create a set of cells that look like fibers
What if you want to generate arbitrary shaped cells in CC3D? Here we'll do the specific case of generating long thin (fibrous) cells.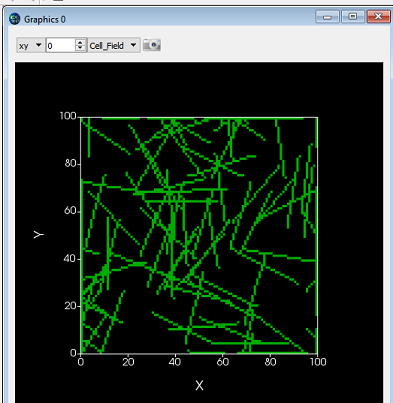 Here is the zip file of the CC3D project
---
Create a set of cells at defined locations using Python in CC3D
If you can mathematically define your cell locations then CC3D/Python can place your cells. (Or, just use a random number generator if you don't really care exactly where the cells are.) Here we will create a circle of cells of different cell types.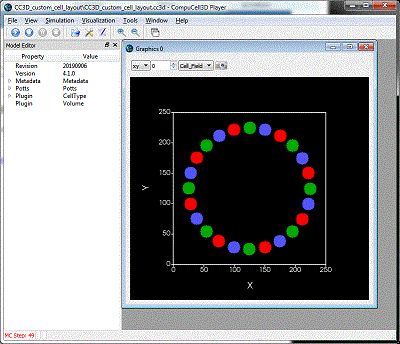 Here is the zip file of the CC3D project
---