Welcome to CompuCell3D
Latest News:
***NEW*** CC3D Version 4.1.1
We are pleased to announce new version 4.1.1 of our software CompuCell3D.
Important Because we switched from Python 2 to Python 3 your old simulations will require minor modifications Please see https://pythonscriptingmanual.readthedocs.io/en/4.0.0/transition_to_cc3d_4.html for instructions on how to port your simulations. If you have questions or require assistance please reach out to use on our user support forum https://www.reddit.com/r/CompuCell3D/
Important We suggest that as you move to CC3D 4.0.0+ you keep old installation of CC3D (version 3.7.x) in place in order to ensure that you can run your simulations during transitions period. CompuCell3D 4.0.0+ stores settings in different place from earlier version so you can safely run new and older versions side-by-side.
New Features
Added support for specifying Reaction-Kinetics models in Antimony and CellML (Windows and OSX)
Fixed parameter scan to allow runs with multiple workers
Added callable API allowing CC3d to be called as a function returning values
Fixed restart files issue
Fixed PIFF dumper
Fixed hover over text in Player
Added support for developing custom C++ steppables and plugins on OS
Expanded compilation documentation for all 3 platforms
Improved data passing between steppables
Added optional comments in code snippets
Improved interface with fpp plugin and new accessible plugin data in steppables

Added access to BoxWatcher data in steppables

Fixed domain resizing
---
CompuCell3D 15th User Training Workshop (tentive dates and location)
July 27th - August 8th, 2020, Bloomington Indiana USA
Goal:
By the end of this two-week course, participants will have implemented a basic simulation of their particular biological problem of interest. Post-course support and collaboration will be available to continue simulation development.
Topics:
Python scripting. Introduction to Reaction-Kinetics (RK) models. Introduction to SBML. Introduction to Virtual-Tissue simulations. Introduction to CompuCell3D. Basics of model building. Combining RK and Virtual-Tissue models. Extending CompuCell3D. Building a basic simulation of your system.
Format:
The workshop will include a limited number of lectures and numerous hands-on computer tutorials. Each attendee will also present a mini-talk on their problem of interest. There will be concurrent sessions for basic and advanced modelers.
Target Audience:
Experimental Biologists, Medical Scientists, Biophysicists, Mathematical Biologists and Computational Biologists from advanced undergraduates to senior faculty, who have an interest in developing multi-scale Virtual-Tissue simulations, or learning how such simulations might help their research. No specific programming or mathematical experience is required, though familiarity with a modeling environment (e.g. Mathematica®, Maple®, Python, or Matlab®) and how to represent basic concepts like diffusion and chemical reactions mathematically, will be helpful.
Note: An Introductory Python Tutorial will take place on August 11th. If you already know Python, you may skip this part of the workshop.
Fees:
There is no registration fee. We will provide coffee, tea, lunch, snacks and workshop materials
Registration:
TBD
Facilities:
The workshop will be held at Indiana University, Bloomington, IN, USA. The nearest airport is Indianapolis, IN. Participants will be able to connect to the Internet using their own laptops.
---
About CompuCell3D
CompuCell3D is a flexible scriptable modeling environment, which allows the rapid construction of sharable Virtual Tissue in-silico simulations of a wide variety of multi-scale, multi-cellular problems including angiogenesis, bacterial colonies, cancer, developmental biology, evolution, the immune system, tissue engineering, toxicology and even non-cellular soft materials. CompuCell3D models have been used to solve basic biological problems, to develop medical therapies, to assess modes of action of toxicants and to design engineered tissues. CompuCell3D's intuitive interfrace makes Virtual Tissue modeling accessible to users without extensive software development or programming experience.
It uses Cellular Potts Model to model cell behavior. Below is a preview of what CC3D can do:
This project is currently funded by generous support from the U.S. National Science Foundation (NSF) and National Institutes of Health (NIH). Grants: NSF- 1720625, "Network for Computational Nanotechnology - Engineered nanoBIO Node" and NIH- R01 GM122424, "Competitive Renewal of Development and Improvement of the Tissue Simulation Toolkit".
Compucell3D is led by James Glazier (Indiana Univ) in collabration with Dr. David Umulis (Purdue Univ). Multiple people contribute, or have contributed, to CC3D including the orginal lead developer Maciej Swat.
New CC3D forum
To report any bugs, or to ask questions, please visit our Q&A page: Reddit CompuCell3D.
Note: In April 2019 our old user forum at CC3D - AllAnswered was discontinued. We are in the process of migrating the old content to the new Reddit forum.
The entries in the old AllAnswered forum are available at CC3D AllAnswered archive.html. The text of the questions and answers is there but the linked files have not yet been moved. In the short term, if you need one of the linked files please ask for it on the Reddit forum.
---
CompuCell3D 14th User Training Workshop
August 11th - August 17th, 2019, Bloomington Indiana USA
We are pleased to announce our 14th Annual User training workshop. Please check links below for more information
(map here)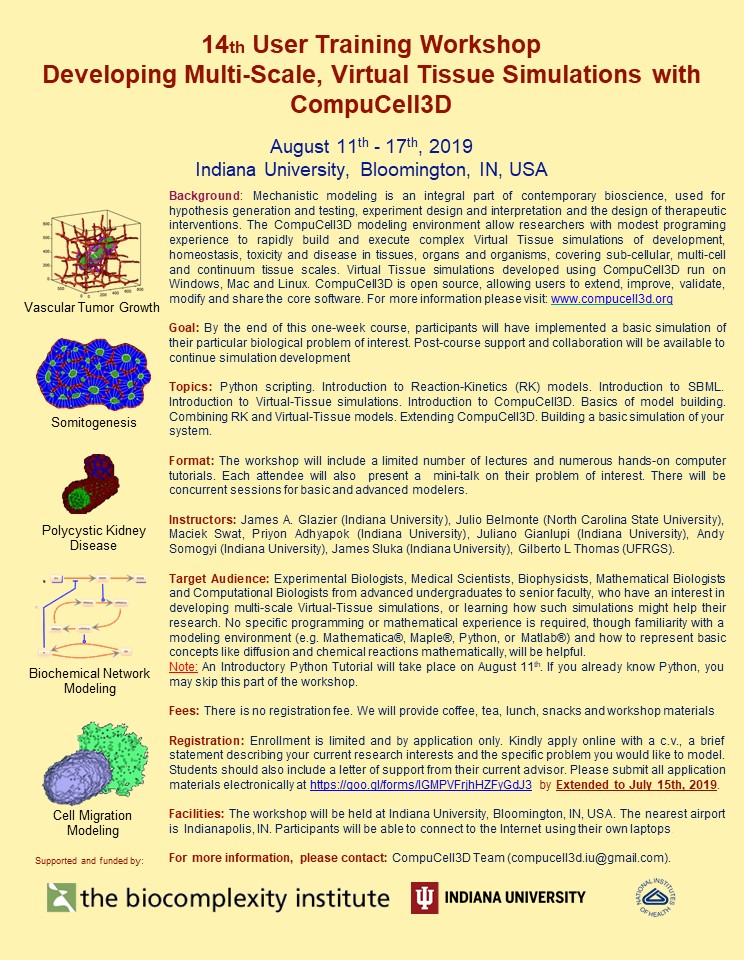 (click to download)
---
Want to contribute to CompuCell3D developement?
We highly encourage fellow researchers to contribute to CompuCell3D code. If you have developed some useful plugin or fuctionality on CompuCell3D and would like share it with rest of us. Please commit the code and open a pull request on CompuCell3D GitHub repository. We would love to see it in next version of CompuCell3D.
---
Have CompuCell3D-related Question?
Try our new CompuCell3D User Forum. In case you are facing any issue with CompuCell3D installation, we are here to help. Please create a post on our subreddit. Problems are often simple to solve.
---
How to cite CompuCell3D
Multi-Scale Modeling of Tissues Using CompuCell3D – M. Swat, Gilberto L. Thomas, Julio M. Belmonte, A. Shirinifard, D.Hmeljak, J. A. Glazier, Computational Methods in Cell Biology, Methods in Cell Biology 110: 325-366 (2012)
---
New Papers using CompuCell Simulations have been published:
---
Latest Announcements
To receive the latest announcements please join our mailing list